Editorial Note: This post was put together by Johanna Ryan from reports to RxISK on Lyrica – Pregabalin. Lyrica is closely related to Neurontin. Many anticonvulsants such as carbamazepine have been used for forty years for pain syndromes such as trigeminal neuralgia. Neurontin but especially Lyrica have been promoted heavily for this. Both cause dependence and withdrawal and because pain and burning sensations are such a feature of withdrawal, they can both become the problem they are used to treat.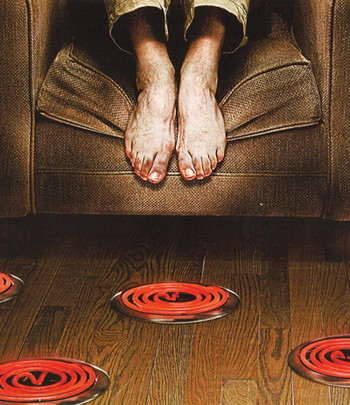 Please describe the side effect, and its impact, in as much detail as you can
Memory problem:
"I developed really bad constipation. My skin started peeling on my hands. I packed on about 20 pounds in two months with no change in my diet or exercise. I'm a high school teacher and had trouble remembering the names of my students. I had significant problems learning new material that I needed to teach. I felt like my emotions were completely shut off. Looking back on it, I turned into a brain dead zombie."
Did you continue taking the drug? Why or why not?
NO: "The side effects while taking Lyrica were intolerable. I was a brain dead zombie but didn't realize how bad things were until I was completely off the stuff and was able to reflect back on how I was when taking the stuff.The withdrawal was absolute hell. I tapered in 20 mg doses (the smallest available dose) over the course of about 4 months. I experienced agitation, skin crawling, major depression (I spent most of the summer in bed), panic attacks, and became severely suicidal. About a month after my last dose, in the space of maybe a day, I felt like I had walked out from under a dark cloud that I had lived under for two years (I took gabapentin before switching to Lyrica). I could feel emotions again, the depression lifted, the suicidal thoughts disappeared, and, I could think again! My neuropathy flared up badly as I decreased my dosage but it settled down after a few months (with the help of Lidoderm patches and a B-vitamin/ alpha lipoic acid supplement) and I found that the pain I was left with was way better than the side effects from Lyrica."
What advice would you give to someone who was considering taking this drug?
"Lyrica does work for neuropathic pain but, in my experience, there are far better solutions for neuropathy. The side effects while taking it are terrible, you won't know how badly the stuff affects you until after you get off of it, and the withdrawal is absolute hell. If you need to take a prescription neuropathy drug, take gabapentin at the lowest dose you can manage since the side effects aren't as severe nor is the withdrawal as bad.Here is what I wish I would have known when I first started dealing with severe neuropathy:
If you are experiencing localized neuropathic pain, stabbing or burning in spots that you can point to, use prescription Lidoderm patches on those spots every day for several days. It may take a couple of days but it'll work wonders. My localized neuropathy was horrifying, 100 (no, I'm not exaggerating!) on the 1-10 pain scale, and when I finally tried it, Lidoderm patches made it completely disappear within about 6 weeks.
For the more diffuse pins and needles type of neuropathy that spreads over an entire limb, try a B vitamin and alpha lipoic acid supplement. There are several published medical studies that show that this works. I take a supplement that I order online called Neuropathic Support Formula. I really didn't have much hope for it but I was desperate and finally decided to try it. About an hour after my first dose, I was surprised to notice that the constant pins and needles had diminished. I take it twice a day, I experience no side effects, and after a few months, I barely notice the pins and needles anymore. If I forget to take it for more than a day, I notice an increase in pain.
If the Lidoderm and B vitamin/ alpha lipoic acid isn't enough then try gabapentin (not Lyrica). If you're thinking about increasing your dose, test out if you will experience withdrawal when you want to get off the stuff. On one of your doses, take one capsule less than you usually do. You'll know in about 5-6 hours how bad the withdrawal is for you. Some people have no problems with decreasing the dose while others, like myself, experience significant withdrawal (racing heart, skin crawling, agitation, etc.). It's good to know what you're facing so you can weigh the advantage of less pain if you increase your dosage vs a longer withdrawal period when it's time to get off the stuff.
I had neuropathic pain from a broken pelvis I got from a major bike accident and from Cauda Equina Syndrome as a result of a failed back surgery. I took gabapentin for a long time and kept increasing the dose and then switched to Lyrica on the advice of a pain management doctor. I've since discovered that all my doctors except one have no idea about the potential severe side effects and withdrawal problems with both gabapentin and Lyrica. None of them had me try Lidoderm patches for severe localized neuropathy (my physical therapist told me about it) and none of them know about B vitamins and alpha lipoic acid.
So, my doctors had things completely backwards. Instead of starting me on treatments with no side effects or withdrawal risk (Lidoderm patches and B vitamins/ alpha lipoic acid) and then adding gabapentin as needed, they started me on gabapentin, kept increasing the dosage until I was at the maximum and then switched me to the even worse Lyrica. I figured out the much better solution on my own and of course, went through the hell of Lyrica withdrawal on my own with no support from any of them. I'm not sure if they really believed me when I told them how bad the side effects of Lyrica and Lyrica withdrawal was.
If you are already taking Lyrica and want to taper off, ask your doctor for a dose equivalent prescription for gabapentin since it's significantly easier to taper off of then Lyrica. I figured this out towards the very end of my Lyrica taper and it made my last couple of tapers much easier."
There is a Lyrica Survivors group that is very active on Facebook. It is a closed group so you will have to ask to join the group. There are currently over 1300 members from all over the world. It's a great place to ask questions and find support if you are struggling with the side effects and/or withdrawal from Lyrica.