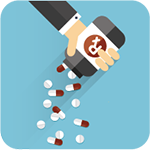 Could you be on too many drugs?
Answer the following 10 questions to assess the risk of your taking a mixture of drugs that is of more harm than benefit to you. We will email you a record of your answers along with your RxISK Polypharmacy Index.
The higher the number, the more important it is that you have a conversation with your doctor.
Read more about the problems of polypharmacy in a post by Dr. Dee Mangin.
"*" indicates required fields