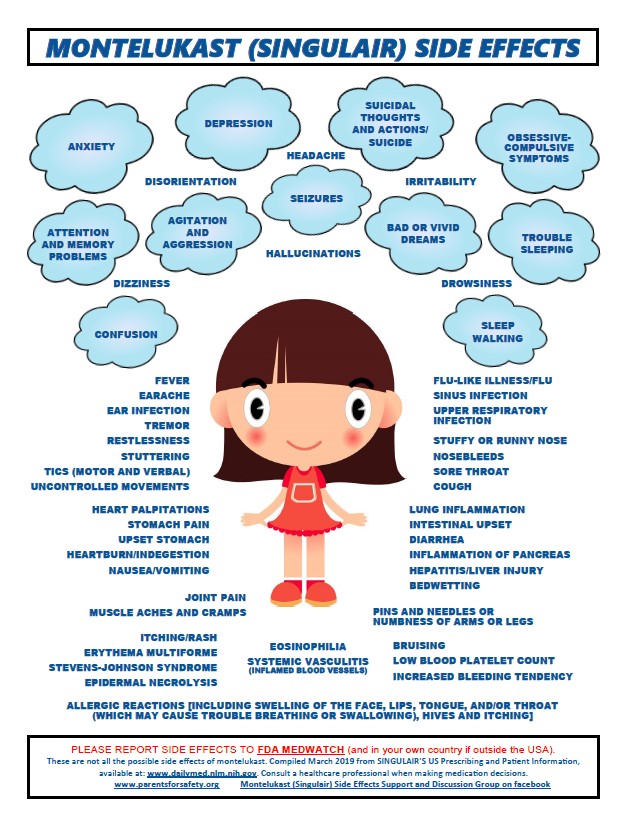 When my happy, full-of-life, adventure-seeking 11-year-old son experienced severe, debilitating neuropsychiatric symptoms after stopping his asthma medication, I embarked on a journey in a desperate search for answers.
How could a medication that acts on the respiratory system reduce my healthy child to a lifeless shell?
How could our beloved doctor not discuss the potential risk of side effects or monitor throughout treatment?
How could multiple physicians confidently repudiate my son's symptoms were drug-induced?
This journey has led me to one conclusion: there is a terrifying lack of awareness about the neuropsychiatric adverse events associated with the commonly prescribed asthma/allergy medication called montelukast sodium (Singulair) both during treatment but also after discontinuation.
Nicholas' Story
After 9 months of significantly improved asthma symptoms, I stopped giving my son, Nicholas, montelukast because I discovered that the side effects included neuropsychiatric symptoms. I was hopeful this was the reason Nicholas had been experiencing mild bouts of unexplained sadness for the previous few weeks. Stop the medicine, stop his sadness. Easy enough, right? Little did I know, our worlds were about to be turned upside down.
Within days of discontinuation, Nicholas became so depressed he was no longer able to function: he could not eat, he could not sleep, he could barely go to school. He just cried for hours. Then the panic attacks started. For hours, Nicholas would get lost in his own world of screaming and thrashing with the only escape being sheer exhaustion and sleep. But sleep brought horrific nightmares. How such an innocent mind can create such terrifying dreams is beyond my comprehension and his descriptions will haunt me for the rest of my life. Even worse, Nicholas started to have hallucinations: both auditory and visual. I realized that I could not protect him from his own mind. I was powerless and it felt suffocating.
Terrified, we went to the emergency room for a psychological evaluation with the medication leaflet in hand showing the U.S. FDA-approved warning for all of the symptoms Nicholas was experiencing including anxiousness, depression, dream abnormalities, hallucinations, insomnia, irritability, and memory impairment. This warning also includes agitation, aggressive behavior or hostility, disorientation, dysphemia (stuttering) disturbance in attention, obsessive-compulsive symptoms, restlessness, somnambulism, suicidal thinking and behavior (including suicide), tic, and tremor.
After a thorough 7-hour evaluation, I expected the doctors to order diagnostic testing to determine a treatment plan that would reverse the effects of the medication. Distressingly, they did not think his symptoms were related to the medication. In fact, they explained that the medication would be cleared from the body within days of discontinuation and since Nicholas' symptoms did not disappear upon discontinuation (negative dechallenge), they were confident the medication was not the culprit. Alternatively, they stated these horrific symptoms were induced by the stress of starting middle school and advised us to immediately initiate treatment with psychotropic medications.
Just Like Nicholas
Turns out we were not alone. Two organizations that have tirelessly been spreading awareness and advocating for drug labeling changes for montelukast for the past ten years, Parents United for Pharmaceutical Safety and Accountability and the Montelukast (Singulair) Side Effects Support and Discussion Group, connected me with over 6,800 members with eerily similar experiences with the neuropsychiatric side effects of montelukast.
Just like Nicholas, many report that their symptoms did not cease with drug cessation but rather emerged or intensified upon discontinuation from montelukast similar to "Post-Acute Withdrawal Syndrome". Just like Nicholas, many report this terrifying experience lasted for weeks, months, or in some cases years. Just like Nicholas, many report symptoms may linger on an intermittent basis commonly described as a "rollercoaster of symptoms."
Just like Nicholas, many report their doctors completely dismissed the possibility that protracted withdrawal symptoms could be induced by stopping an asthma/allergy medication. As a result, these children and adults have been admitted to psychiatric hospitals, initiated on psychotropic drugs, diagnosed with learning or development disorders, and terrorized by not knowing what happened to them and when or if they will recover. Story after story, just like Nicholas. But yet the medical community, at large, appears unaware of the risk for neuropsychiatric side effects, both during treatment as well as post-discontinuation.
Medical Perceptions
It is alarming that even though the FDA added a warning for the neuropsychiatric side effects and sent correspondence directly to health professional organizations to alert them about the risk, the perception that this medication is safe remains strong and unwavering. The following doctor responses exemplify the general lack of understanding about the imputability, evolution, frequency, and severity of the neuropsychiatric side effects associated with montelukast both during treatment and post-discontinuation:
"I have heard montelukast causes issues but not to the extent your children both suffered from it."
"In prescribing Singulair, I have never warned patients about any side effects that occurred in less than 0.1%, if we did we would not prescribe any drugs at all."
"Just stop taking it and the side effects will pass."
"The drug has a short half-life and should be out of the system in 3 days."
"This drug has been deemed safe by the FDA."
"The benefits outweigh the minimal side effects."
"Side effects really only happen when kids first start the medicine."
"All of your daughter's symptoms could not have been caused by montelukast. Since she is still suffering these symptoms after stopping the drug that means it was not the drug that caused it. The drug would be out of her system by now."
"Your child is a highly emotional adolescent."
"The depression symptoms could have been caused by the drug, but not the obsessive-compulsive behaviors." (This child's OCD subsided 5 months post-discontinuation without intervention. OCD was added to the drug labeling in September 2018).
"The real problem is with the internet. Parents can write anything they like. You can not believe stupid things from the internet because people writing there are not doctors."
"If your son's variations on the genes needed to metabolize/transport montelukast increased the susceptibility to neuropsychiatric side effects, there would be pharmacogenomic related recommendations all over the drug labeling."
"Until the FDA releases official recommendations or black box warnings, in science/medicine, we can't make broad recommendations based on anecdotal reports." (This comment in April 2019 was 11 years after FDA's warning for neuropsychiatric adverse events).
Transforming Perceptions
There is a video of Nicholas here:
The quest to change such deeply rooted perceptions is daunting. What will it take to see change?
More adverse event reports?
More insurance claims and/or diagnoses made after treatment?
More compelling media stories?
More deaths?
More warnings from the FDA?
More doctors seeing it with their own eyes?
Is it even possible to change a perception that has been allowed to thrive for twenty long years?
Do we need to question the very foundation for the perceptions that this medication is safe:
Question if the original clinical trials were adequately designed to measure the risk of neuropsychiatric adverse events: the critical limitations of the original clinical trials were acknowledged at the May 2, 2014 Nonprescription Drugs Advisory Committee meeting where it was recommended that the FDA deny approval for montelukast to be an over-the-counter drug.1
Question if this asthma/allergy medication only acts on the respiratory system: there are studies across the globe showing that montelukast has both structural and functional effects on the brain, which can be either positive or negative depending on physiological conditions.2,3
Question if the frequency of these adverse events are rare: a recent study shows that children with asthma who experienced a new onset of neuropsychiatric events had nearly twice the odds of having been prescribed montelukast in the year before such events4 and another study shows the incidence of children with side effects severe enough to require stopping the medication was approximately 12%.5
Question if FDA will take the bold action required to transform the perceptions about this asthma/allergy medication. In light of the growing number of adverse event reports filed over the past twenty years, the FDA has launched a safety evaluation for montelukast6 that is drawing worldwide attention as the efforts of advocacy groups are increasingly alerting the public about these well-documented neuropsychiatric adverse events. Will they ensure the drug labeling is scientifically accurate and highlight the possibility of delayed onset of neuropsychiatric symptoms as well as post-discontinuation symptoms? Will they ensure there is a heightened awareness about these neuropsychiatric adverse events by issuing a boxed warning and requiring a Medication Guide be distributed to patients at the time of drug-dispersal? Will they ensure the much-needed pharmacogenomic studies are initiated to identify whether polymorphisms in the genes needed to metabolize and transport montelukast increase susceptibility to neuropsychiatric side effects?
Given the stakes, is this too much to ask?
Note
This post focusses on montelukast – Singulair – but FDA warnings also apply to other drugs in the group such as zafirlukast – Accolate – pranlukast – Onon, as well as Zileuton – Zyflo.
References
Transcript of the FDA's Center for Drug Evaluation and Research, May 2014 Nonprescription Drugs Advisory Committee Meeting; page 99, line 11-22; page 135, line 21; page 333, line 10-17
https://wayback.archive-it.org/7993/20170404152755/https://www.fda.gov/downloads/AdvisoryCommittees/CommitteesMeetingMaterials/Drugs/NonprescriptionDrugsAdvisoryCommittee/UCM402352.pdf
Marschallinger, J. et al. Structural and functional rejuvenation of the brain in old rats by an approved anti-asthmatic drug. Nat. Commun. 6:8466 doi: 10.1038/ncomms9466 (2015) SEE Page 10 and Page 8.
Eriksson et al. The anti-asthmatic drug, montelukast, modifies the neurogenic potential in the young healthy and irradiated brain. Cell Death and Disease (2018)9:775 DOI
Glockler-Lauf et al. Montelukast and Neuropsychiatric Events in Children with Asthma: A Nested Case-Control Study. J Pediatr. 2019 Mar 21
Benard, B. et al. Neuropsychiatric adverse drug reactions in children initiated on montelukast in real-life practice. Respir. J. 50, 700148 (2017)
FDA safety evaluation announcement 9/20/2019 https://www.fda.gov/media/116406/download
Editorial Note: Laura Marotta got in touch after the last RxISK post on Montelukast. She had planned on writing for children but now writes to researchers, medical professionals, regulatory agencies, and parents to spread awareness about the neuropsychiatric adverse events associated with montelukast, both during and after treatment. Her hope is that Nicholas' story will become part of someone else's survival guide when faced with similar trauma. She encourages reporting all adverse drug events to the U.S. FDA.

The photo below is of Laura and her family. They live on Long Island.