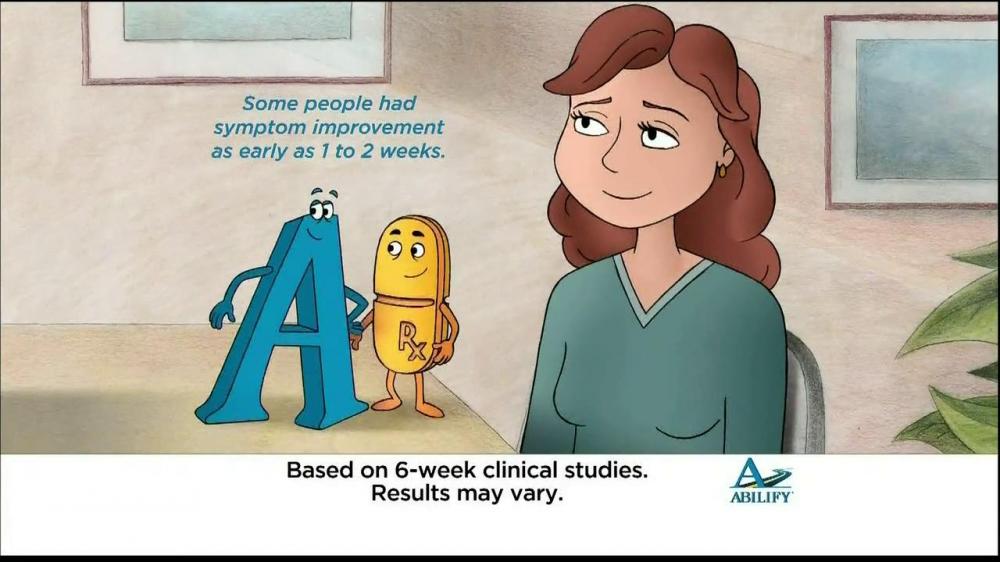 Editorial Note: This post is by Johanna Ryan, who has a unique ability to capture the American Nightmare.
The best-selling drug in the United States isn't a blood pressure pill, a painkiller or even an antidepressant. It's Abilify, an antipsychotic agent with $6.3 billion in 2013 sales. Granted, Abilify isn't the most prescribed pill, but its #1 status is sealed by popularity and high price: the current retail price of a 30-day supply is now a whopping $900, and it's 23rd in sheer numbers of prescriptions. In 2011 the Medicaid program in my home state of Illinois spent $53.6 million on Abilify for its poorest citizens, more than it spent on any other drug.
I'm not the first to ask, what the hell is going on here? However, my interest in Abilify is personal: Wherever I go in the healthcare system, people have been urging me to take it, and even suggesting there's something irrational about my reluctance.
Phase 1: Dodging bipolar disorder
A brief word about my situation: I've been treated for depression, at times severe, since 1975. Over the years I've been unable to work for brief periods, fairly miserable but officially "functional" more often. Still, I've never once experienced psychotic symptoms. No voices, no visions, no strange beliefs or fears, and no "manic" periods of wild activity and grandiose plans. Back in the 1980's I was hospitalized a few times as actively suicidal, and was once given antipsychotics – but only for the first week or so. I didn't like them then; I felt more passive than truly calm, and unable to complete an intelligent thought.
Having watched the rollout of "new and improved" antipsychotics in the 1990's that turned out to have just as many problems as the old ones, I still don't like them. However, it wasn't until 2006 that I really got skeptical about psychiatric drugs in general. Despite a long trail of meds that had done me no good, stopped working or had miserable side effects, I was always willing to try the next milestone in the march of science – unless it was an antipsychotic.
Ten years ago, the new antipsychotics were easy to refuse. The theory behind giving them to people like me was that repeatedly depressed people might have "bipolar disorder type II", a mood disorder without actual mania, and should take these drugs as "mood stabilizers." My longtime psychiatrist, Dr. A, knew me too well to really believe I was bipolar; he told me he thought it made little difference what label he put on my depression since none of them could be verified. Still, he thought these drugs well worth a try. "They're not necessarily antipsychotics," he said. "That's just a label, they're used for lots of things." "I know," I replied, "but they're still neuroleptics. I want to hang on to all the brain function I can."
"Oh, come on," he coaxed. "We're talking about little baby doses here, just a fraction what they give people for schizophrenia." That sounded somewhat reassuring – but I still said no. (Today I'm glad I didn't listen to that particular sales pitch, as I'll explain later.)
Back in those days, I could tell a family doctor, OB/GYN or nurse that Dr. A wanted me to take antipsychotics, and they'd look bewildered. Even flinch a bit. "But you're not… I mean …" "Right," I'd say. "Not psychotic. And unless and until I start hearing voices, I'm not touching that stuff. Even if I do start hearing voices, I'm not taking it a day longer than I have to." They all thought that made sense.
Phase 2: Nowhere to hide
Then came Abilify. Now no one flinched anymore. Instead, they all seemed to think I should try it. "I've heard tremendous things about that drug," they'd say. "It's different." Some even told me they've seen it work wonders for this patient or that. Even those who were usually skeptical of Pharma's newest miracle drugs seemed won over. What the hell was happening?
I knew of one big event: Abilify had been officially approved for depression alone, for those who did not "fully recover" after six weeks on an antidepressant. And that, the TV ads informed us, included two-thirds of patients. Everyone had seen these ads, featuring the little cartoon woman who could get up and go back to work, but was still followed around by that small black cloud of unresolved depression. They'd also listened, mouths agape, to the recital of possible side effects, from suicidal thoughts and hallucinations to involuntary movements, coma and death. For awhile, the ads were fodder for late-night comics. Yet these warnings came with a new twist: Abilify, "like all antidepressants", could lead to thoughts of suicide, they said. Dr. A's "not really an antipsychotic" gambit was becoming an official line.
Reading up on Abilify told me its side effects were no joke. Like other antipsychotics, it blocked certain dopamine receptors; unlike them, it was a "partial agonist" or stimulator for others. While this made it less likely than Zyprexa or Seroquel to cause obesity, diabetes and sedation, some patients were still plagued with all three. Moreover, "less sedation" had a nasty catch: Abilify caused lots of akathisia, an agonizing mental and physical restlessness that can lead to suicide. The official FDA leaflet said that 10-12% of patients experienced akathisia and an incredible 25% had "agitation," which I figured was either a layman's word or a polite euphemism for the same thing.
There were also reports of tardive dyskinesia and similar disabling or disfiguring involuntary movements. This was a problem the new "atypical" antipsychotics were supposed to have greatly decreased, if not eliminated, but Abilify's record made it look more like the bad old drugs. And tardive dyskinesia, I knew, could linger long after the drug was stopped.
What about the benefits? The FDA's decision to approve Abilify as an add-on to antidepressants had been based on two studies done by the drugmaker itself. Even they had shown Abilify only slightly better than placebo on a scale used by doctors to rate depression. On a rating scale filled out by the patients themselves, there'd been no difference at all. This despite a study design that had favored Abilify by first putting everyone on an antidepressant alone, and screening out those who did well.
Worse yet, patients in many Abilify studies were being allowed as many benzodiazepine tranquilizers as they needed to tolerate the side effects – and up to 70% had said yes, please. Perhaps a lot more than 25% of them were feeling that famous agitation. If they felt slightly better at study's end, could that be due more to the tranquilizers than Abilify? It alarmed me to think this drug was being given to teenagers diagnosed as bipolar, patients with depression linked to borderline personality disorder, and irritable and disruptive autistic children. Most of these people would be considered "agitated" to begin with. How many would feel worse without realizing Abilify was the cause – or even if they did, would be unable to convince their doctors?
Phase 3: Going underground
A few years after Abilify's debut, I found myself consulting a psychiatrist again, after several years' absence. Listening to Dr. B, I could tell a lot had changed in that time. You didn't need to be shoehorned into the bipolar category anymore to need a mood stabilizer; they were essential for everyone. There was a large motley heap of mood stabilizers, ranging from antipsychotics to seizure drugs, and Abilify was king of the hill. Again I heard there was no need to label it an antipsychotic, and in any case a "little baby dose" was enough to combat depression.
Soon I found myself dodging Abilify at every appointment. This had to be done in stages: starting with denial ("But really, I don't think I'm doing THAT badly!"); moving on to bargaining ("I'll take lithium instead. Or Lamictal. Or something"), and then to simple delay ("Give me three months, and if I'm not feeling better I promise I'll take it."). The coaxing grew stranger: "Why don't you think of these awful depressions you get as a type of seizure," suggested Dr. B. (Abilify, by the way, is not an anti-convulsant; it actually lowers your seizure threshold.) Finally, it seemed like every session was spent dodging Abilify. "Sure, you're functional," Dr. B. told me. "But that's not much of a goal. I'd hate to see you miss a chance at true happiness."
Holy crap. Had I just heard a psychiatrist say "true happiness"? Either this was quite some drug, or quite some advertising campaign! I had felt lucky to be seeing Dr. B, since at least he listened and was open to negotiation. But if I didn't give in on this, he might just unload me onto the hospital clinic. It's my way or the highway in those places, and their way would be Abilify for sure. Finally, reluctantly, I agreed to give it a try. But on the train home, I found myself eyeing that prescription slip like it was an improvised explosive device. Was I really going to fill it?
No, as it turned out, I wasn't. Instead I did something I wasn't entirely proud of: I simply e-mailed Dr. B a week later, telling him I was taking 2 mg per day. I didn't feel better or worse, I said, just kind of scatterbrained, with some trouble concentrating. He emailed back: So you're sedated and mentally slowed on 2 mg? He sounded skeptical. I hurriedly assured him I wasn't sedated, not really. It was more like having a bit of ADHD, but without being hyperactive. OK, said Dr. B, don't go up to 4 mg yet. Wait another week or so. Ten days later I e-mailed him saying I still felt the same, and it was making things difficult at work. To my relief, he told me I could stop. I had gotten my "trial of Abilify" under my belt, without taking any actual Abilify, and could now move on.
If this was what it took to dodge Abilify, I decided, we had a real problem—and I wanted serious answers. First I dug into some of that official research for myself. More importantly, I asked RxISK to give me access to the reports patients had made on the website about Abilify, minus the names and other identifiers, of course. I promised to sort through these, compare them with the clinical trials and the FDA side effect statistics on RxISK, and write a report for a blog.
My friends at RxISK were all for it. Next week, I'll report on what I learned.